Henriette Nielsen
Executive Vice President and Chief Transformation Officer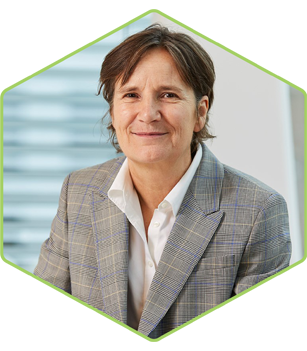 Henriette Nielsen is our Executive Vice President and Chief Transformation Officer, a role she assumed in August 2022. Ms. Nielsen has executive responsibility for all human resources and people-related matters, communications, and facilities as well as responsible for building out our ESG program.
Ms. Nielsen brings significant experience from a range of corporate functions and an impressive track record of enhancing operations at pharmaceutical companies. Previously, Ms. Nielsen served at Hikma Pharmaceuticals plc, a multinational pharmaceutical company publicly traded on the London Stock Exchange, as Executive Vice President, Business Operations, a role she held from June 2018 to July 2022. Before that, Ms. Nielsen served at Teva Pharmaceuticals, a global pharmaceutical company, as Senior Vice President, Chief Transformation Officer (from January 2015 to June 2018). Before that, she was the founder of System Matters APS, a healthcare and impact investing consultancy (from April 2011 to December 2014) and the general counsel and an executive vice president at Actavis Group (from January 2006 to March 2011).
Ms. Nielsen began her career as a commercial lawyer in Denmark at Kromann Reumert. She presently serves as Vice Chair of Think Equal USA, a not-for-profit providing and advocating for early-age social emotional learning, and is an advisor to EIR, which promotes women's sports globally. Ms. Nielsen was a candidate of law at the University of Copenhagen, received her Master of Laws at the University of Edinburgh, and completed a Leading Sustainable Corporation Programme at the University of Oxford.