Company History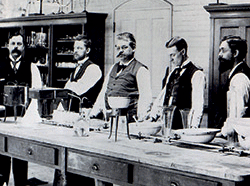 At Mallinckrodt, we've been formulating and supplying pharmaceutical products for more than 150 years. We offer a broad generics product portfolio with an emphasis on pain management and ADHD.

Through our unique, five-step Vertically Integrated Process, we control every step of product development – from the farmer's field to active ingredient processing, through formulation, manufacturing, packaging and distribution.
This process, which is one of the many ways we demonstrate our commitment to being a leader in generic pharmaceuticals, allows us to:
Promise a reliable source of supply
Assure quality
Remain competitive in the marketplace
Look for more progress to come as we add to our line new products, strengths, unit dose and unit of use packaging. Through our service to the retail, health systems, and government markets, we are proud to provide healthcare solutions for both pharmacists and their patients.