Mallinckrodt's Response to COVID-19
<div style="padding:56.25% 0 0 0;position:relative;"><iframe src="https://player.vimeo.com/video/416393273?title=0&byline=0&portrait=0" style="position:absolute;top:0;left:0;width:100%;height:100%;" frameborder="0" allow="autoplay; fullscreen" allowfullscreen></iframe></div><script src="https://player.vimeo.com/api/player.js"></script>
Our Mission
At Mallinckrodt, our mission – listening for needs, delivering solutions – is about finding new therapies for underserved patients with severe or critical conditions, ensuring patient access to existing therapies, meeting unmet needs within our communities, and protecting our employees' health and safety, especially at this time.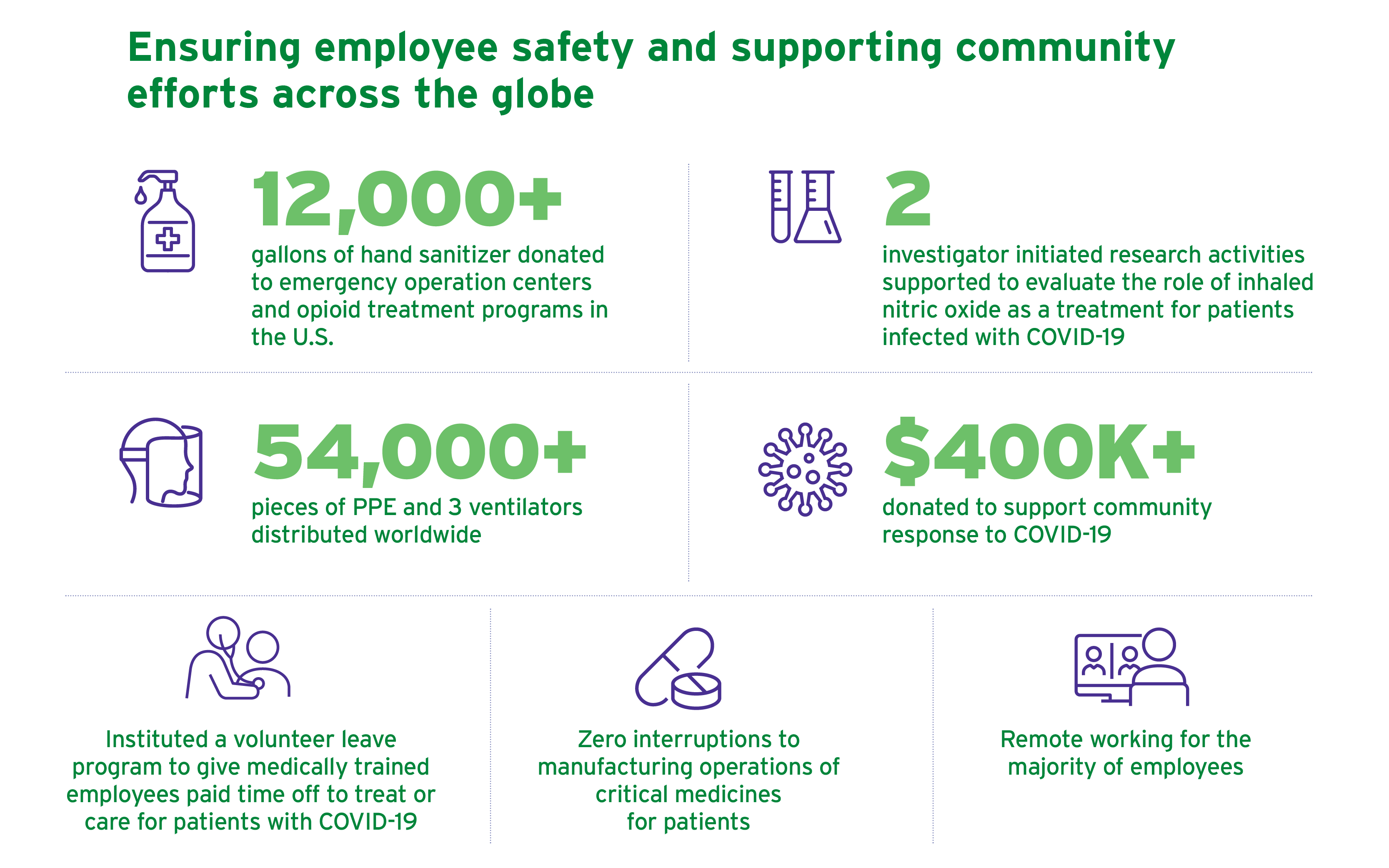 Supporting the COVID-19 front line
In this war on COVID-19, thousands of healthcare workers are serving on the front lines. Always ready to support them are the dedicated members of Mallinckrodt's Regional Service Centers (RSCs). Our five U.S. RSCs in Sacramento, Dallas, Chicago, Atlanta and Somerset, NJ are responsible for warehousing, distribution, and service of INOmax® (nitric oxide) gas, for inhalation cylinders and devices. Working 24/7 in the wake of the pandemic, these teams are safely fulfilling the needs of hospitals using INOmax nitric oxide gas.1 With need, at times on an emergency basis, our RSC managers, drivers and technicians are delivering product and device into hospitals – sometimes going through crowded ERs to get the product where it's being stored or used on the hospital floor. We're proud of our RSC heroes who are demonstrating that our primary focus continues to be the critically ill patients we serve.

The Somerset, NJ RSC team's workload reached unprecedented levels in April when the NY-NJ area surged as the U.S. pandemic epicenter.
Extending our COVID-19 response across the globe
Mallinckrodt is committed to supporting our employees, customers, patients, and the broader communities in which we work. Teams throughout our company are listening for needs and mobilizing with solutions.
In Dublin, Ireland

the operations team at Mallinckrodt's College Park Campus coordinated the donation and delivery of 6,000 personal protective equipment (PPE) gowning items, including masks, gloves, safety goggles and shoe coverings, to neighboring St. James Hospital. The team also transferred two ventilators from Mallinckrodt's Global Device Engineering lab to nearby Tallaght University Hospital, where the equipment was quickly put to use with COVID-19 patients. During these troubling times, we are committed to doing all we can to respond to the COVID-19 pandemic.
In St. Louis, Missouri

, our manufacturing plant has produced and donated 12,000 gallons of hand and surface sanitizers to centralized emergency management operations in MO, IL, NY, NJ and NC where Mallinckrodt has operations. These states' emergency centers then distribute the supplies of sanitizers to public agencies who serve as healthcare and first responders in their communities.
Our Science
The power of science has already helped to identify the novel coronavirus, test for it, treat and in some cases defeat the virus. We are united with scientists around the world in the fight to find effective treatments and a COVID-19 vaccine. Collaborating with healthcare providers, governments, and scientific and regulatory agencies across the world, Mallinckrodt is committed to fighting this insidious disease and ending this global health crisis.
We are supporting an investigator initiated study at Massachusetts General Hospital assessing the use of inhaled nitric oxide to treat patients with severe acute respiratory distress syndrome due to COVID-19. Our support to Massachusetts General includes providing funding as well as INOmax* to facilitate the study.
Health Canada cleared Novoteris LLC and Mallinckrodt's joint pilot clinical trial to investigate Thiolanox®, a high-dose inhaled nitric oxide therapy that uses Mallinckrodt's high-concentration nitric oxide gas cylinders, in patients infected with COVID-19.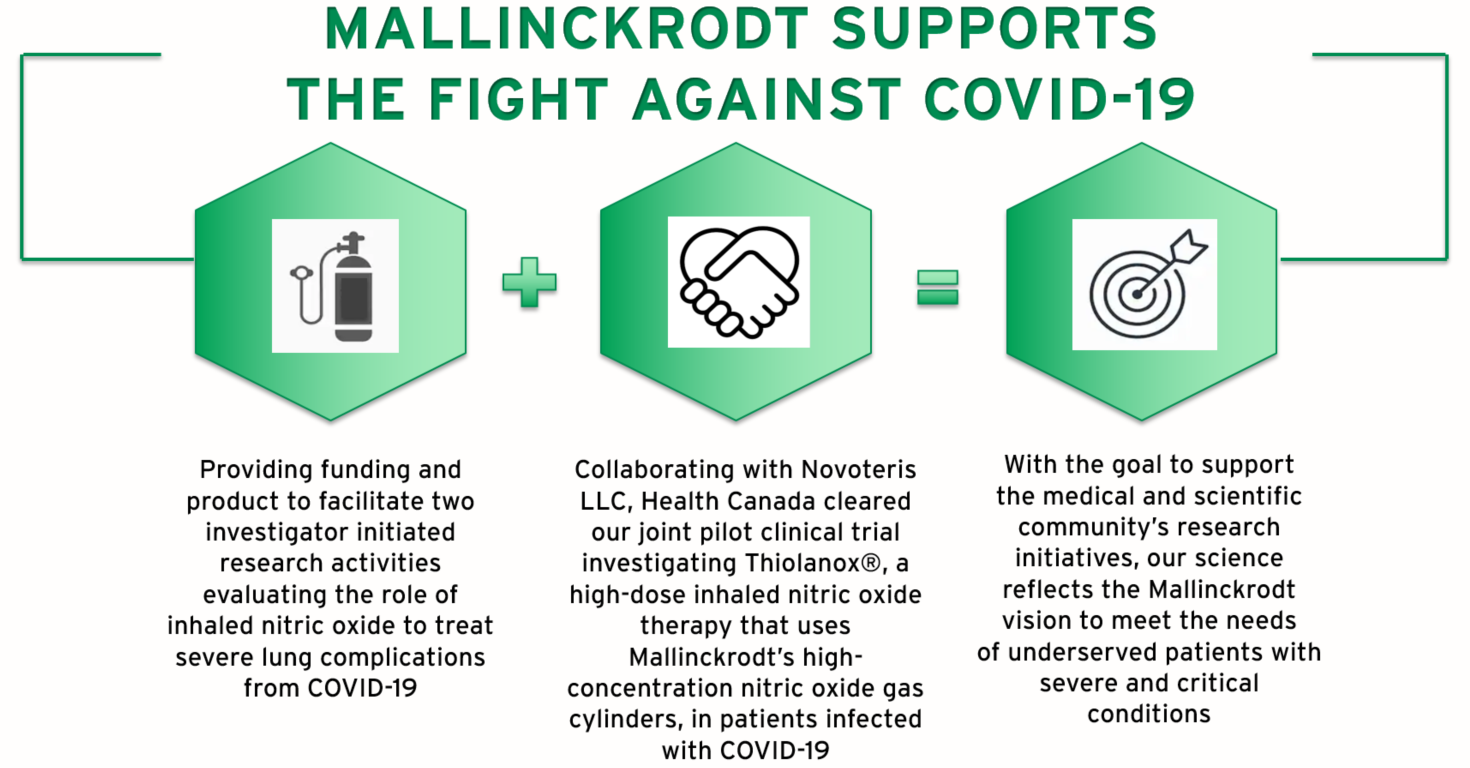 Our People
Throughout the pandemic our employees have acted on their concern for front line and essential workers. Our people are making a difference locally and globally, and we're proud and thankful for their many acts of kindness and tremendous volunteerism and ingenuity.
<div style="padding:56.25% 0 0 0;position:relative;"><iframe src="https://player.vimeo.com/video/425329322?title=0&byline=0&portrait=0" style="position:absolute;top:0;left:0;width:100%;height:100%;" frameborder="0" allow="autoplay; fullscreen" allowfullscreen></iframe></div><script src="https://player.vimeo.com/api/player.js"></script>
Employee Profile
Take Action. Do What You Can, Where You Can

Meg and Paul Geisewite with their children Grant and Ashley.
Meg Geisewite, Rheumatology Executive Sales Specialist, started Feeding Front Line Healthcare Givers, a campaign to help feed emergency department healthcare workers in hospitals throughout Delaware. Far surpassing her original $1000 goal, Meg and her Go Fund Me page donors raised over $4700 and fed over 1350 healthcare workers in six Delaware hospitals. In late April 2020, Meg joined forces with several other groups to form Heroes & Restaurants. As of October 2021, Heroes & Restaurants raised over $44,000 and fed 2965 healthcare workers, first responders and essential workers while also supporting 27 Delaware restaurants.